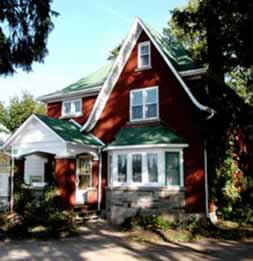 Since 1987, Southern Ontario Counselling Centre (SOCC) has been located in the quiet village of St. Agatha, just a few minutes west of Waterloo, Ontario.  We are easily accessible from Kitchener, Cambridge, Stratford, Guelph, Elora, Elmira, Woodstock and surrounding areas.
We are a group of professionally accredited therapists in private practice.  We provide individual, couple, family and group therapy.
Our appointments take place in a historical brick home that has been converted into private therapy spaces.
When an inquiry into counselling is initiated, our response is prompt. The wait for an appointment is often very short. Please contact us to get started today!
We believe that personal growth involves finding new ways to understand and cope with past and present pain. We support you in finding the therapist who you feel is best suited to help you meet your goals.